cant get the app to open, just a spinning wheel.
Thanks for reaching out! Best to contact the developers directly as it's a third party app.
Hi Lindo, I appreciate the reply. Where can I find contact info on the developer? Didnt see any on Manifold Studio besides the name
Many thanks,
Oliver
Clicking on the name should bring you to their twitter bio
I am just trying to get all my NFTs minted on Manifold on one link. Now I am trying to use the "curate" tool
but the links "create new" and Create one" dont work for me,
Not sure what is going on here. I'd rather not list on Foundation, but every attempt I make to have a meta link for all my art minted on Manifold is not working.
The curate tool is just an app that will allow you to add Manifold links to a page, you don't use the Curate tool to 'list' tokens for sale. Tokens that have been listed for sale can be added to a gallery page.
Manifold Gallery's share tool is a different feature that will allow you to create custom galleries.
When you mint an NFT with Manifold you have the option to list it for sale on a marketplace of your choice, it can be FND, or it can be Rarible or Opensea. If you like you can use our gallery tool to create an auction page.
Hi Lyndo, yes, all I am trying to do is find a way to share with everyone one gallery page where they can see all the work I minted on Manifold. On the Gallery page from my POV it shows all the NFTs I have minted, but this page is not a link I can send to potential buyers. Unless I am doing something wrong, I just dont see how I can share on twitter a link to all my NFTs as a collection minted under one contract. All I can see how to do is send out an individual link for each NFT, which is too cumbersome to share. I dont know where to create custom galleries on the gallery page.
Sending screen shot to show what I see when I click on gallery. I want to use your share tool but the UI/UX is confusing to me how to do this. Grateful for your help.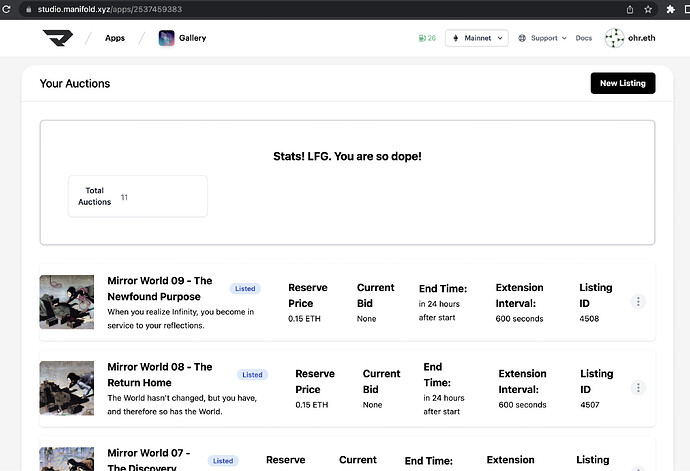 The Gallery allows you to create individual auctions but it won't provide a link where all the tokens are viewable.
You can build your own site for this purpose. Some examples here:Custom Gallery/Marketplace - Manifold Docs
The Curate page will allow you to add the different gallery links into one page.
right. well that is unfortunate. Its great that it is so customizable, but really the fact that there is no easy solution for others to engage and purchase an entire collection feel like it pushes creators off of Manifold and onto Opensea or Foundation. Building a whole custom website is outside my wheelhouse. Would be great in the future if collectors could just click on the creators icon and go to a page where all the NFTs they minted on Manifold would show up in a gallery view.