Hello!
For some reason, every time I mint an HTML page as an NFT, its frame displays taller than it should be on mobile on OpenSea. While I am able to control the size of the all the contents within the frame on OpenSea's pages, and I can get everything to look right on desktop, there is always extra space at the bottom of the NFT on mobile that I just can't get rid of.
You can see an example here on my Clock NFT: https://testnets.opensea.io/assets/goerli/0x3ed9046b336318c7486c20eb71fe23ee646b9862/66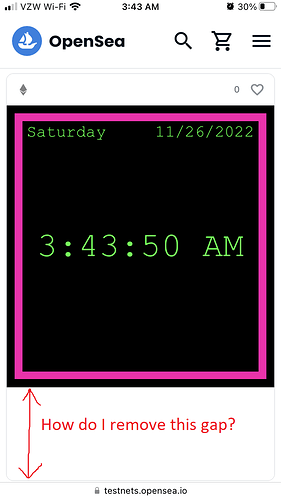 While the clock appears as a perfect square on both desktop and mobile, there is extra empty white space below the clock on mobile. I'm able to change the color of that white space by changing the back-ground color of the parental tag. However, any attempt to reduce the height of the entire frame, including changing the height of the tag, has no effect on the total size of the NFT.
No matter what I do, my HTML NFTs appear as vertical rectangles on OpenSea on mobile, even though I want them to be squares.
I've tried dozens of things, like setting the bottom padding to 0, hiding overflow, using negative bottom margins, etc. I've tried every CSS feature I can find to try and fix this problem, but nothing seems to work.
I would greatly appreciate ay suggestion you can offer me, because this issue really messes up the appearance of my HTML NFTs on OpenSea. Thank you for your time.
My code: it's too large to fit everything here, so I'll reply with all of my code.