Introducing your Token Activity in Manifold Studio!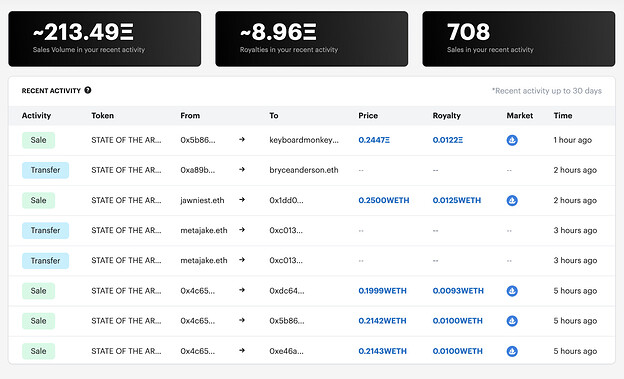 There's been alot of conversation about royalties lately, but little about how to get this data. Last month we spoke about the importance of having more visibility around your work in our thread about royalties: https://twitter.com/manifoldxyz/status/1590916659950551041?s=61&t=wB7dGe8Wz5_Dy8TePoegtQ
Speaking with creators it was clear that there was little visibility on what was happening with their art. When are sales happening? Are royalties being paid? Are tokens being transferred?
Today that is possible with your Token Activity panel. By surfacing this data, creators will be able to make more informed decisions about how to proceed with engaging communities, reward mechanics and experiment with different business models around royalties.
After logging into Manifold Studio, you will now be able to see the most recent activity on your tokens. This feed will include:
Token sale prices with and without royalties
Token transfers
Token mints
We do our best to parse this data as accurately as possible but in some cases the data may not be reflected properly due to multi token transactions, market aggregators, or unknown sales mechanisms. We'll be improving our data set and parsing as we go.
The activity feed is the first step in laying the groundwork for a analytics dashboard that can generate reports for sales across for all tokens. We'll also be working on making the data actionable, such as creating rewards for those collectors who choose to pay royalties.
We are so excited to grow this feature with you.
Curious about what's happening with your tokens?
Log into Manifold Studio now.