Hello!
I am running into an issue while embedding Manifold widgets on a custom webpage.I have been building a website on which I want to aggregate all tokens listed for an auction. Integrated widgets as advised on Manifold Docs pages.
The site is hosted on replit.com. Code repository can be seen at https://replit.com/@daqhris/collect-awalkaday-art#index.html.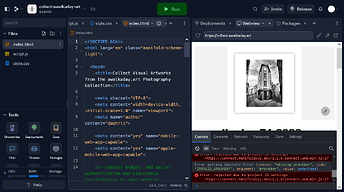 The first issue is that I can't get a HTTPS live version. When the site is viewed inside the code editor, it loads up the secure link, minus the "Connect Widget" (https://connect.manifoldxyz.dev).
Outside the code editor, in a normal browser window, I am able to access a HTTP non-secure version. One caveat: the Twitter logo looks overblown in size and one (or more) widget(s) does not load up properly.

The site link is http://collect.awalkaday.art. Its DNS settings have been edited and configured to be run on cloudflare.com. That's how I managed to turn the default site address collect-awalkaday-art.daqhris.repl.co into a shorter and readable web address.
I spent some time reading the docs and understanding how widgets work. I have also created an account on Manifold Developer Portal and set up 5 apps which are in use in the front-end code repository on Replit.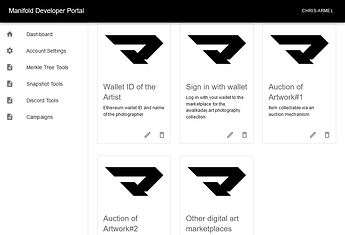 I am seeking help to solve two issues:
failure to load a HTTPS site version (authentication or certificate errors)
probable mistake in configuring project ID settings which impacts access to Manifold API
Any suggestion or solution is welcome. Thank you!