GM everyone! I am in search of a fix/solution at the latest stage of the minting process.
I am trying to batch-mint tokens on ETH mainnet. For my first batch, all ERC721 assets were minted on the testnet Goerli and successfully uploaded to Arweave.
I'm stuck on the last function: MINT.
The "mint tokens" transaction failed and was dropped. See this: https://etherscan.io/tx/0x9e08d4add3cc0818644d8f4972cca21ee1e259c7f953ecedbfb4b3fe9249c6c7.
On the blockchain explorer, I saw this notification : This transaction was forwarded to Flashbots Protect RPC but was not mined and has expired.
On the RPC's related-webpage, it is mentioned that the transaction failed due to low gas fees. https://protect.flashbots.net/tx/0x9e08d4add3cc0818644d8f4972cca21ee1e259c7f953ecedbfb4b3fe9249c6c7.
After finding out the above, I went back to Manifold Studio. Then I tried reloading the page as indicated. But, I stay in an ending loop which tells me that there is an issue and that I must refresh the page. I had scheduled today as the minting day. But it seems that I can not continue or do anything to finish minting the smart contract on-chain.
My current understanding of the issue is that Manifold does not pick up the info about the failed transaction because it was dropped before being included in the on-chain memory pool and didn't result in loss of funds.
I would appreciate any guidance on how I can make the necessary changes directly on the contract via Etherscan (functions to call after connecting wallet).
Otherwise, I'm asking for anyone working at Manifold to debug or help me fix this problem.
__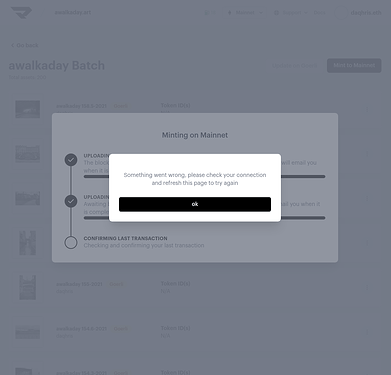 __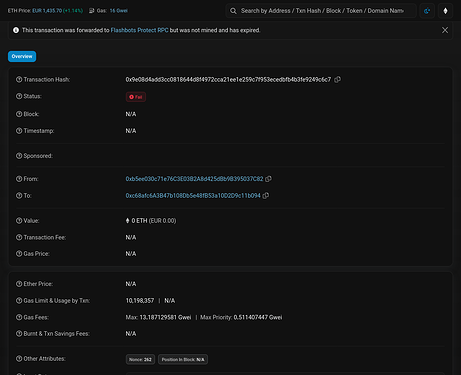 __
Thanks very much!