When I try to claim the CPG Dark Mode NFT in this link ☾ 𝐃𝐀𝐑𝐊 𝐌𝐎𝐃𝐄 ☾, I run into two errors:
A server error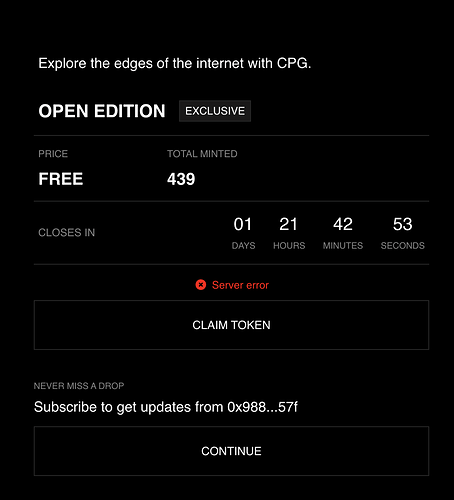 A response error at very bottom of this post.
What's causing this error? To my knowledge the address I am using is whitelisted for this mint. I am also using walletconnect to mint with a fireblocks wallet if that is causing issues as well.
processing response error (body="{"id":47,"jsonrpc":"2.0","error":{"code":3,"message":"execution reverted: Could not verify merkle proof","data":"0x08c379a00000000000000000000000000000000000000000000000000000000000000020000000000000000000000000000000000000000000000000000000000000001d436f756c64206e6f7420766572696679206d65726b6c652070726f6f66000000"}}", error={"code":3,"data":"0x08c379a00000000000000000000000000000000000000000000000000000000000000020000000000000000000000000000000000000000000000000000000000000001d436f756c64206e6f7420766572696679206d65726b6c652070726f6f66000000"}, requestBody="{"method":"eth_estimateGas","params":[{"value":"0x0","from":"0x2dbe01c72848987df5a136a86038e416b43dc4ef","to":"0x44e94034afce2dd3cd5eb62528f239686fc8f162","data":"0xfa2b068f000000000000000000000000f3dd7da1d35b3289329bfa45358763f04fbb86cc00000000000000000000000000000000000000000000000000000000290918f0000000000000000000000000000000000000000000000000000000000000136d00000000000000000000000000000000000000000000000000000000000000a00000000000000000000000002dbe01c72848987df5a136a86038e416b43dc4ef000000000000000000000000000000000000000000000000000000000000000bc5eac2428de9f041d9e529a5d0017aca670efca3b3052cc7eff0b1c20a0ff3ef1a7a544998dd88c0c01a1cf3156c836624ea4232839ede521b80ae07b47be496a438d4fef22fe50338ec3e3b06ceeb7403de334351426ca6e7f6800998c03dead0acca5d7c799a605ff47971b4e2c8352fcc3480ac0565459374f2094893fb0bcb818a1a9192d95dca141cd35b7f63f5e430f2657fa2c4e838b1e91c1231b189f0b709e7544f309409fe7e2243f21c5e35eb72fbb66b10b4c145f4535dc5db7e80dd96d0315ab0f009b9abda81a858ae8c8e20af0d3abb39456467e58b64dbd2b15d776e0af25481a9b0967723732cf899c85330b79ab6d79f2b194fd45914e690ed6bb9bbbe6b9c8608d296d4e07f9f3d4f7bf3cb14e73cd31aa15c08845cc67e1f202792699b0edea42d12ce7031d87537a49b56952a8813f6070e732383ededbf42d4beafebfd4275218637708e7a3914457dc04eb24acff378339310144f"}],"id":47,"jsonrpc":"2.0"}", requestMethod="POST", url="https://bridge.manifoldxyz.dev/rpc", code=SERVER_ERROR, version=web/5.7.1)