Hello, help me solve the problem. I can't sell a piece because the codes I entered don't work.
At the very beginning, I entered 1 code and sent a link to the Claim Page to the buyer. The buyer sent me a message: Unfortunately the code has already been "used".
Was just trying to submit transaction and couldn't
After that, I entered an additional 4 codes and sent all the options to the buyer.
The client says that he tried all the options and sent a screenshot where it is indicated on the Claim page that this code has already been used.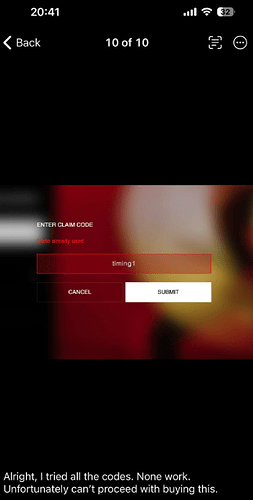 I decided to completely remove the codes and open access, but I can't do it because in the claim code tab, the message "At least 1 redemption code is required" writes to me.
0xf09dbd55a893a8Ac50A1F0015F7Dc161c594F4fB